Behaviour of some hydrobionts in experimental conditions of accidental oil pollution
K. B. Adyrbekova

Al-Farabi Kazakh National University, Almaty

I. M. Zharkova

Al-Farabi Kazakh National University, Almaty

S. S. Kobegenova

Al-Farabi Kazakh National University, Almaty

S. S. Sakhi

Al-Farabi Kazakh National University, Almaty
Abstract
This work presents results on behavioral reactions and sensitivity of molluscs and fish to experimental modelling of accidental oil pollution during the first 72 hours. It is shown that mobile hydrobionts, such as fish attempt to escape the contaminated area during the first 24 hours after the oil spill. Benthic animals – molluscs are more susceptibleto pollution, they almost instantly lose their mobility, become inert and try to escape their shells further on, which serves as an evidence of death throes. Light crude with high content of paraffin was used for the present experiment.
References
1. Kuzin I.L., Yakovlev O.N. Harakter zagryazneniya okruzhayuschey sredyi pri razvedke neftegazokondensatnyih mestorozhdeniy na severe Zapadnoy Sibiri // Mnogotselevyie gidrogeohimicheskie issledovaniya v svyazi s poiskom poleznyih iskopaemyih i ohranoy podzemnyih vod. – Tomsk,
1993. – P. 82

2. Egorov N.N., Shipulin Yu.K. Osobennosti zagryazneniya prirodnyih vod i gruntov nefteproduktami // Vodnyie resursyi. –1998. – Vol. 25. – No 5. – P. 598–602

3. Mihaylova L.V. 2005. Reglamentatsiya nefti v donnyih otlozheniyah (DO) presnovodnyih vodoemov // Sovremennyie problemyi vodnoy toksikologii. Tez. dokl. Mezhdunar. konf Borok: IBVV RAN. S. 97–98

4. Problemyi himicheskogo zagryazneniya vod Mirovogo okeana. T. 4. Vliyanie nefti i nefteproduktov na morskie organizmyi i ih soobschestva. 1985. / Pod red. O.G. Mironova. L.: Gidrometeoizdat.136 s

5. Kovalenko V.F. 2004. Vliyanie nefteproduktov na gazoobmen u segoletok karpa // Gidrobiol. zhurnal. 40, № 5. S. 65–70

6. Davyidova S.V., Cherkashin S.A. 2007. Ihtioplankton Vostochnogo shelfa ostrova Sahalin i ego ispolzovanie kak indikatora sostoyaniya sredyi // Voprosyi ihtiologii. T. 47, №
4. S. 494–505

7. IPIECA (1997) Biological impacts of oil pollution: fisheries. IPIECA Rep Ser 8, International Petroleum Industry Environmental Conversation Association, London

8. Popkov V.K., Vorobev D.S., Lukyantseva L.V., Ruzanova A.I. Basseyn reki Vasyugan (srednyaya Ob) kak model poymenno-rechnoy sistemyi dlya izucheniya vliyaniya neftyanogo zagryazneniya na vodnyie soobschestva // Ekologo-biogeohimicheskie issledovaniya v basseyne Obi / Pod red. V.V. Zueva. – Tomsk, 2002. – S. 220–245

9. Ruzanova A.I., Vorobev D.S. Transformatsiya donnyih soobschestv v usloviyah neftyanogo zagryazneniya // Ekologiya poym s birskih rek i Arktiki / Pod red. V.V. Zueva. – Novosibirsk: Izd-vo SO RAN, 1999. – S. 71–78

10. Muhanova M.U. Fiziko-himicheskaya i spektralnaya harakteristika nefti mestorozhdeniya Kumkol // Geologiya, geografiya i globalnaya energetika. – 2010. – № 2. – S. 113-115

11. Patin S.A. Neft i ekologiya kontinentalnogo shelfa. – M.: Izd-vo VNIRO, 2001. – 247 s.

12. Ivanenko N.V. Ekologicheskaya toksikologiya uchebnoe posobie. – Vladivostok: izd-vo VGUES, 2006. – 108 s.

13. Panasenko D. N. Ekologicheskaya bezopasnost Kaspiyskogo morya v usloviyah neftegazodobyivayuschey deyatelnosti // Vestnik Astrahanskogo Gos.Teh.Universiteta. – 2004. – № 2 (21).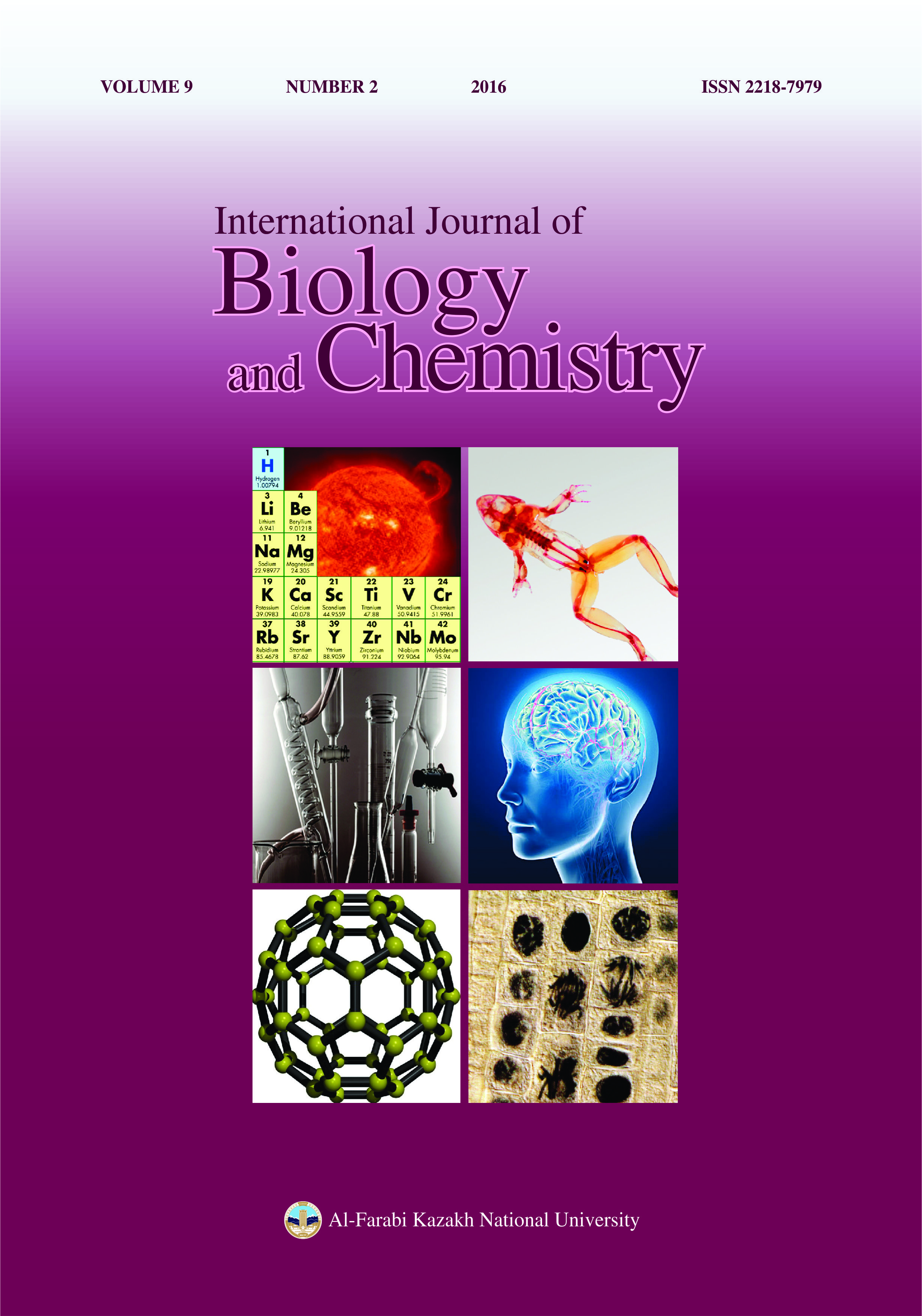 Keywords
oil impact; molluscs; fish; experiment; behavioral reactions