The processes of complex formation on interphase boundary butanol/water with participation of vinylbutyl ether – maleic angydride copolymer and polydimethylaminoethylmethacrylate
S. N. Rahadilova

Al-Farabi Kazakh National University

Z. K. Zhatkanbaeva

Al-Farabi Kazakh National University

G. A. Mun

Al-Farabi Kazakh National University

E. M. Shaikhutdinov

Al-Farabi Kazakh National University

Khaldun M. Al Azzam

Universiti Sains Malaysia

El-Sayed M. Negim

Universiti Sains Malaysia
Abstract
Interpolyelectrolyte reaction of copolymers of alternating structure - vinylbutyl ether and maleic anhydride (VBE-MA) with the polymer of cationic type – polydimethylaminoethylmethacrylate (PDAEMA) on the boundary of two non – mixing liquids are studied the for the first time. Polyelectrolyte complexes with exact composition are formed as a result of ionic bonds formation. The composition of polyelectrolyte complexes are formed on interface. It is also found, that exposed VBE-MA solutions in butanol with aqueous solutions PDAEMA form film on interface. Thermal characteristics, morphology and composition of formed films have been studied using physicochemical methods.
References
1. G.C. Eastmond, A. Ledwith, S. Russo, P. Sigwalt // J. Compr. Polym. Sci., 3 (1989), pp. 261–269

2. J.C. Salamone Polymeric materials encyclopedia, vol. 11CRC Press (1996), pp. 8280–8285

3. S. Polowinski // Prog. Polym. Sci., 27 (2002), pp. 537–577

4. M. Kalagasidis Krušića, E. Džunuzovićb, S. Trifunovićc, J. Filipovića Polyacrylamide and poly(itaconic acid) complexes // European Polymer Journal, 40 (4) (2004), pp. 793-798

5. C. Peniche-Covas, W. Argüelles-Monal Sorption and desorption of water vapour by membranes of the polyelectrolyte complex of chitosan and carboxymethyl cellulose // J. Polym. Int., 38 (1) (1995), pp. 45–52

6. Rosica Mincheva, Nevena Manolova, Dilyana Paneva, Iliya Rashkov Novel polyelectrolyte complexes between N-carboxyethylchitosan and synthetic polyelectrolytes // European Polymer Journal, 42 (4) (2006), pp. 858-868

7. A.D. Gazizov, G.T. Zhumadilova, L.A. Bimendina, S.E. Kudaibergenov Interpolymer complexes of some vinyl copolymers in a solution and on the boundary of two liquid phases // Polymer, 41 (15) (2000), pp. 5793-5797

8. R. Silverstein, G. Bassler, T. Morril Spectroscopic identification of organic compounds // Mir, Moscow ,1977, p. 590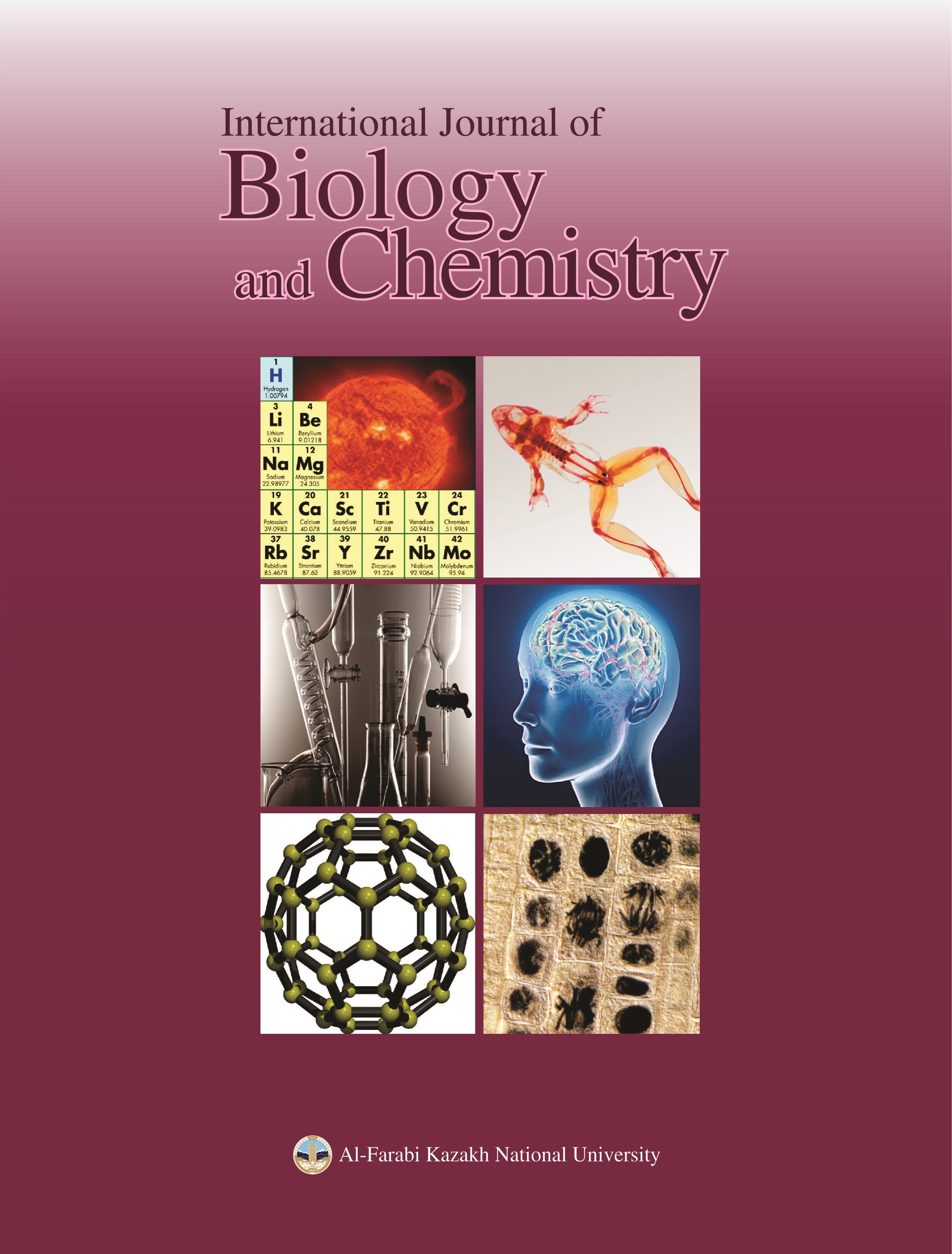 How to Cite
RAHADILOVA, S. N. et al. The processes of complex formation on interphase boundary butanol/water with participation of vinylbutyl ether – maleic angydride copolymer and polydimethylaminoethylmethacrylate.
International Journal of Biology and Chemistry
, [S.l.], n. 3, p. 54-57, june 2012. ISSN 2409-370X. Available at: <
https://ijbch.kaznu.kz/index.php/kaznu/article/view/53
>. Date accessed: 19 sep. 2020.
Keywords
polydimethylaminoethylmethacrylate; Interpolyelectrolyte reaction; vinylbutyl ether and maleic anhydride