Treatment of oil-containing wastewater using microorganisms immobilized on shungite
M. K. Kazankapova

Center of physical-chemical methods of research and analysis, al-Farabi Kazakh National University

A. J. Bekjanova

Center of physical-chemical methods of research and analysis, al-Farabi Kazakh National University

S. A. Efremov

Center of physical-chemical methods of research and analysis, al-Farabi Kazakh National University

A. K. Nurtaeva

Center of physical-chemical methods of research and analysis, al-Farabi Kazakh National University

M. K. Nauryzbaev

Center of physical-chemical methods of research and analysis, al-Farabi Kazakh National University
Abstract
Bioremediation of oil-polluted natural objects using oil degrading microorganisms immobilized on
schungite sorbents was investigated in laboratory conditions. Microorganisms isolated from soil of
Botakhan oil field, located in Makat region (Atyrau) are presented for the first time. The isolated active
strains of microorganisms were screened and identified (P.stutzeri, B.atrophaeus, Isoptericola varabilis).
Immobilization of oil degrading bacteria cells on shungite sorbents from Kazakhstan ("Bakyrchik" field)
and Russia ("Zazhegino" field) was performed. Sorption and destructive activity of bacteria strains have
been studied. The biosorbents proposed here are shown to provide effective adsorptive and biological
purification of wastewater from oil.
References
1 Shatalov A.A., Novikov A.D., Janenko A.S. Biodegradacija neftjanyh zagrjaznenij
morskimi obligatnymi nefteokisljajushhimi mikroorganizmami // Mat. II-go Moskovskogo mezhdunarodnogo kongressa «Biotehnologija: sostojanie i perspektivy razvitija». – M. - Ch. 2. - 2003. – 220 s.
2 Wilkinson S., Nicklin S. // Biotransformations: Bioremediation Tecchnology for Health and environmental Protection / Stapletion Amsterdam; London; New-York; Oxford; Paris; Tokio. 2002. 69-
100 р.
3 Pleshakova E.V., Matora L.Ju., Turkovskaja O.V. Nefteokisljajushhij shtamm Dietzia maris i
vozmozhnosti ego ispol'zovanija dlja bioremediacii zagrjaznennoj pochvy // Vestnik MGOU. Serija Estestvennye nauki. – 2010. – № 4. – S. 82-89.
4 Dubrovskaya E., Pleshakova E., Turkovskaya O. Using molasses for stimulation of the degradative nd activities of the microbial community in soil contaminated with oil shale liquid fuel // Soil Contamination: New Research / Ed. A.N. Dubois. – USA: Nova Science Publishers, 2008. – Р. 121-138.
5 Wuyep P.A. Chuma A.G., Awodi S. and Nok A. J. Biosorption of Cr, Mn, Fe, Ni, Cu and
Pb metals from petroleum refinery effluent by calcium alginate immobilized mycelia of Polyporus squamosus. Scientific Research and Essay, 2009. - Vol. 2, № 7. - Р. 217-221
6 Sidorov A.V., Morozov N.V., Gicareva E.V. Biodegradacija neftesoderzhashhih prirodnyh i stochnyh vod konsorciumom uglevodorodokisljajushhih mikroorganizmov // Pjatyj mezhdunarodnyj kongress po upravleniju othodami i prirodoohrannymi tehnologijami VjejsTek – 2007. – Moskva, 2007. – S. 341-342.
7 Pirog T.P. Ispol'zovanie immobilizovannyh na keramzite kletok nefteokisljajushhih mikroorganizmov dlja ochistki vody ot nefti // Shevchuk T. A., Voloshina I. N., Grechirchak N. N. // Prikladnaja biohimija i mikrobiologija. - 2005. - T.
41. - № 1. - S. 58-63.
8 Sidorov D.G., Borzenkov I.A., Ibatullin R.R. i dr. Polevoj eksperiment po ochistke pochvy ot neftjanogo zagrjaznenija s ispol'zovaniemuglevodorodokisljajushhih mikroorganizmov // Prikladnaja biohimija i mikrobiologija. - 1997. – T. 33. - № 5. – S. 497-502.
9 Baryshnikova L.M., Grimennov V.G., Arinbasarov M.U., Shkidchenko A.N., Boronin
A.M. Biodegradacija nefteproduktov shtammamidestruktorami i ih associacijami v zhidkoj srede // Prikladnaja biohimija i mikrobiologija.-2001.-T.37.
– № 5. – S. 542-548.
10 Zhubanova A.A., Baubekova A.S., Abisheva N.K., Kajyrmanova T.K. Immobilizacija kletok drozhzhej i bakterij na zauglerozhennye prirodnye nositeli // Vestnik KazNU. Ser.jekol.- 2001. - № 2(9). – S. 46-50.
11 Anufrieva S.I., Isaev V.I. i dr. Ocenk vozmozhnosti ispol'zovanija prirodnogo materiala
- shungita dlja ochistki neftesoderzhashhihstokov. // Trudy mezhdunarodnogo simpoziuma-Petrozavodsk, 2000. - S. 156-161
12 Leonenko I.I., Antonovich V.P., Andrianov A.M., Bezluckaja I.V., Cymbaljuk K.K. // Metody
opredelenija nefteproduktov v vodah i drugih obektah okruzhajushhej sredy (obzor) // Metody i obekty himicheskogo analiza. - 2010. - T.5. - №2. - S. 58-72.
13 Wilson K. Preparation of genomic DNA from bacteria. Current Protocols in Molecular Biology. Editors (Editors Ausubel, F. M., Brent, R., Kingston, R. E., Moore, D. D., Seidman, J. G., Smith, J. A., et al.). - New York: Wiley, 1987. - 650 p.
14 Dudikova G.N., Jakusheva T.V., Kudrjakova A.V., Zholdybaeva E.V., Shevcov A.B. Geneticheskaja identifikacija molochnokislyh bakterij na osnove analiza nukleotidno posledovatel'nosti gena 16SrRNA // Biotehnologija. Teorija i praktika.- 2012.- №3. – S. 55 – 64.
15 Kolbert C.P., Persing D.H. Ribosomal DNA sequencing as a tool for identification of bacterial pathogens // Current Opinion in Microboiligy. – 1999. – Vol. 2. – P. 299 – 305.
16 National Center for Biotechnology Information (NCBI) http: // www.ncbi.nlm.nih.gov/
17 Stackebrandt E., Goebel B.M. Taxonomic note: a place for DNA–DNA reassociationand 16S rRNA sequence analysis in the present species definition in bacteriology // International Journal of Systematic Bacteriology. – 1994. – Vol. 44. – P. 846–849.
18 Hence M., Armojes P., Lja-Kur-Jansen J., Arvan Je. Ochistka stochnyh vod. Pod redakciej d-ra
him. nauk S.V. Kaljuzhnogo. - M.:, Mir. 2006. – S. 256-257.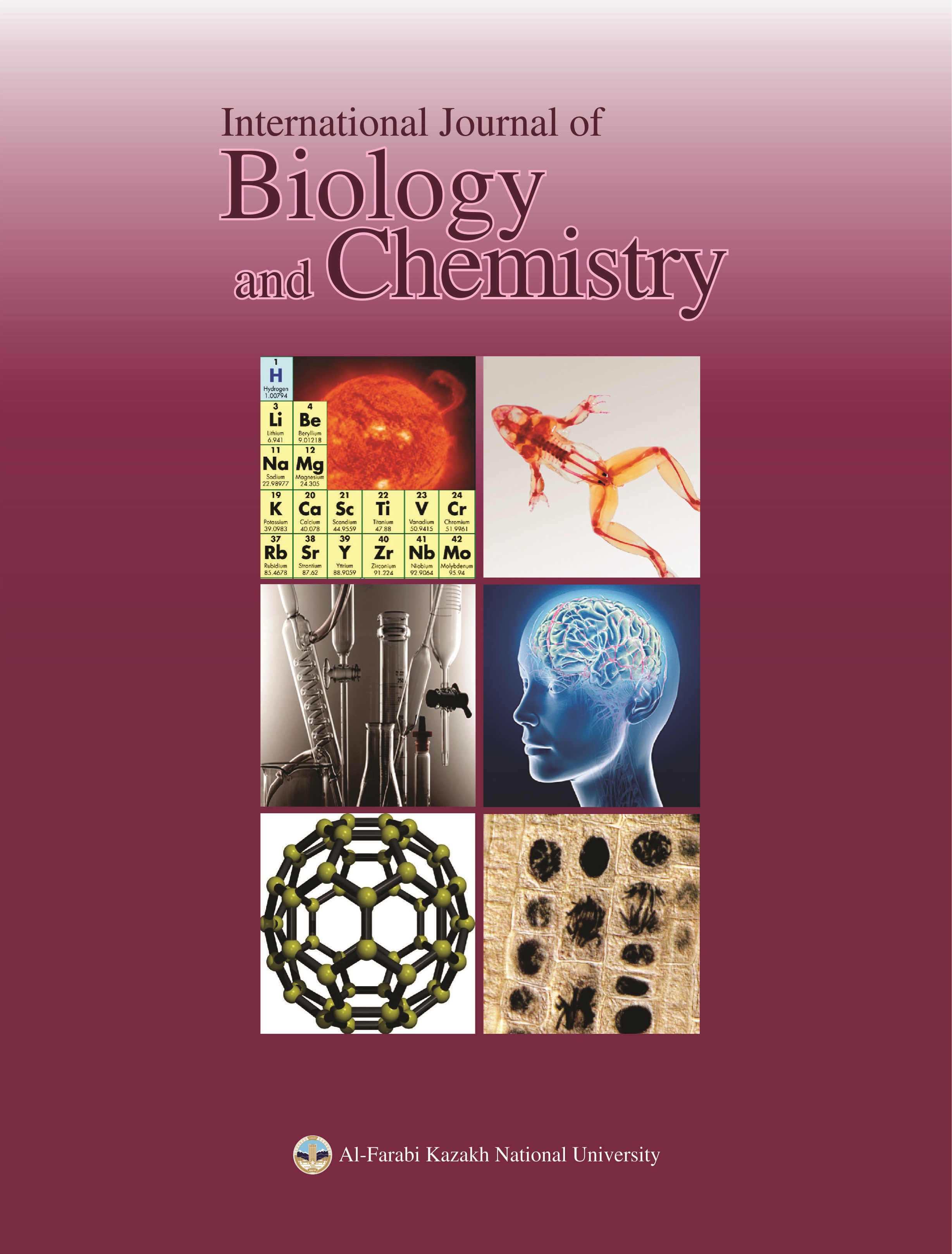 How to Cite
KAZANKAPOVA, M. K. et al. Treatment of oil-containing wastewater using microorganisms immobilized on shungite.
International Journal of Biology and Chemistry
, [S.l.], v. 5, n. 1, p. 104-110, june 2013. ISSN 2409-370X. Available at: <
https://ijbch.kaznu.kz/index.php/kaznu/article/view/89
>. Date accessed: 20 sep. 2020.
Keywords
immobilization; adsorption; biosorbent; association of microorganisms; shungite, oil