Effects of Almaty city ecological factors on students blood indices at Al-Farabi Kazakh National University
Abstract
Environment pollution is a wide-researching problem and it is likely to influence the health of human populations is great. And environmental health is that aspects of public health that is concerned with those forms of life substances, forces and conditions in the surroundings of man that may exert an influence
on man's health and well-being. A number of natural and anthropogenic activities and may cause adverse effects on human health and the environment. Increased combustion of fossil fuels in the last century is responsible for the progressive change in the atmospheric composition. Air pollution has both acute
and chronic effects on human health, affecting a number of different systems and organs. It ranges from minor upper respiratory irritation to chronic effects on human disease, lung cancer, and acute respiratory infections in children and chronic bronchitis in adults. The effects of environmental factors on student's
health and its mechanisms are briefly discussed.
The climatic – geographic conditions of the environmental living habitat is one of the most influential reasons that has always affected and produced physiological changes in our body. Because of this, it gives a chance to determine the change in organisms in time, and give us enough time to organize the appropriate prophylactic events in advance.
In our work, the data which had been measured during laboratory research was statistical analyzed the methods were used in our study, and assessment of the value of the measured data, we paid much more attention to assess correctly the changes because of various climatic – geographical reasons effects to
students body. In order to determine the functional status of the students' organisms, we used special pilot tested, and got the effective positive comment on its using. In this study we put significant effort to determine the physiological variations (disorders) to the students' which from the different regions of
the republic of Kazakhstan and their adaptation process in immune system because of various climatic – geographical changes in their life.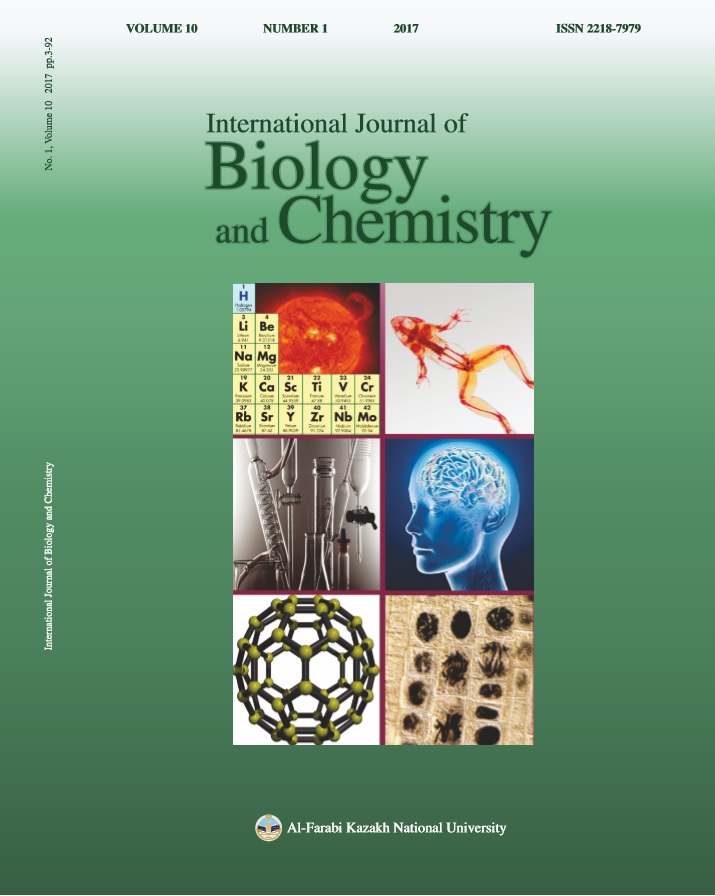 Downloads
How to Cite
Baidaulet, T., S. T. Tuleuhanov, N. T. Ablaikhanova, A. Ydyrys, and A. Baishanbo. 2017. "Effects of Almaty City Ecological Factors on Students Blood Indices at Al-Farabi Kazakh National University". International Journal of Biology and Chemistry 10 (1):42-49. https://doi.org/10.26577/2218-7979-2017-10-1-42-49.