Development of legumes collection and its investigation for morphogenetic properties
Z. G. Aytasheva

Department of Molecular Biology and Genetics, al-Farabi KazNU

A. B. Rysbekova

Department of Molecular Biology and Genetics, al-Farabi KazNU

S. Q. Baiseyitova

Department of Molecular Biology and Genetics, al-Farabi KazNU

B. A. Zhumabayeva

Department of Molecular Biology and Genetics, al-Farabi KazNU

Q. Zh. Tagaev

Department of Molecular Biology and Genetics, al-Farabi KazNU

E. D. Djangalina

Department of Molecular Biology and Genetics, al-Farabi KazNU

Zh. A. Urazova

Department of Molecular Biology and Genetics, al-Farabi KazNU
Abstract
Basic morphogenetic features have been studied aсross the collection of legumes, and namely for common bean, Phaseolus vulgaris L. (Kazakhstani, American, Chinese, Czech, Polish, Russian, and Turkish), from different soil and climatic areas. The collection was grown under mountain and steppe zone conditions of the Almaty Region. A number of useful genetic stocks have been identified for argonomically desirable traits. Investigations on domestic as introduced set of cultivars and lines are also in progress with respect to biochemical, cytogenetic and other properties for use in further breeding work.
References
1. Bodnar G.V., Lavrinenko G.T. Grain legume crops. – Moscow, USSR: Kolos, 1977. – 256 pp.
2. Zhukovsky P.N. Crops and their relations. – Leningrad, USSR: Kolos, 1971. – 791 p.
3. Popov V.P., Martynov O.L. Morphological and biological peculiarities of few cultivars for
common bean in the South of Moscow Region // Proceedings of Russian Acad. Agric. Sci. -2001. – No. 4 – P. 21-23..
4. Zerfus V.M., Schitov A.G., Kozlova G.Ya. Factors determining the formation of symbiotic apparatus
and its impact on grain legumes productivity in Western Siberia // Agrochemistry. -1997.- No.12. – P. 27-31.
5. Korsakov N.I. et al. Methodical Instructions on The Study of The Collection for Grain Legume
Crops. – All-Union Institute of Plant Research, 1975. – P. 59.
6. Asfaw A., Blair M.W., Almekinders C. Genetic diversity and population structure of common bean (Phaseolus vulgaris L.) landraces from the East African highlands // Theor. Appl. Genet. – 2009.- V. 120. _No. 1.- P. 1-12.
7. Dospekhov B.A. Field experiment techniques (with fundamentals of statistic treatment of research data). – Moscow, Agropromizdat, 1985. – 351pp.
8. Bisgaard S. "Must a Process be in Statistical Control before Conducting Designed Experiments?" // Quality Engineering, ASQ. – 2008. – V. 20. – No.2. – P. 143 – 176.
9. Isemura T. et al. Genome dissection of traits related to domestication in azuki bean (Vigna angularis) and comparison with other warm-season legumes // Ann Bot. – 2007- V. 100. No. 5. – P. 1053-1071.
10. Beattie A.D., Michaels T.E., Pauls K.P. Predicting progeny performance in common bean (Phaseolus vulgaris L.) using molecular markerbased cluster analysis // Genome. – 2003. – V. 46. – No. 2. – P. 259-267.
11. Wang H.F. et al Genetic diversity and relationship of global faba bean (Vicia faba L.) germplasm revealed by ISSR markers // Theor. Appl. Gen.- 2012.-V. 124. – No. 5. – P. 789-97.
12. Kumar V. et al. Genetic diversity in Indian common bean (Phaseolus vulgaris L.) using
random amplified polymorphic DNA markers // Physiol.Mol. Biol. Plants. – 2008. – V. 14. – No. 4. – P. 383-387.
13. Zhang X., Blair M.W., Wang S. Genetic diversity of Chinese common bean (Phaseolus vulgaris L.) landraces assessed with simple sequencerepeat markers // Theor. Appl. Genet. – 2008. – V. 117. – No. 4. – P. 629-640.
14. Nowosielski J., Podyma W., Nowosielska D. Molecular research on the genetic diversity of Polish varieties and landraces of Phaseolus coccineus L. and Phaseolus vulgaris L. using the RAPD and AFLP methods // Cell Mol. Biol. Lett. – 2002. – V. 7. – No. 2B. – P. 753-762.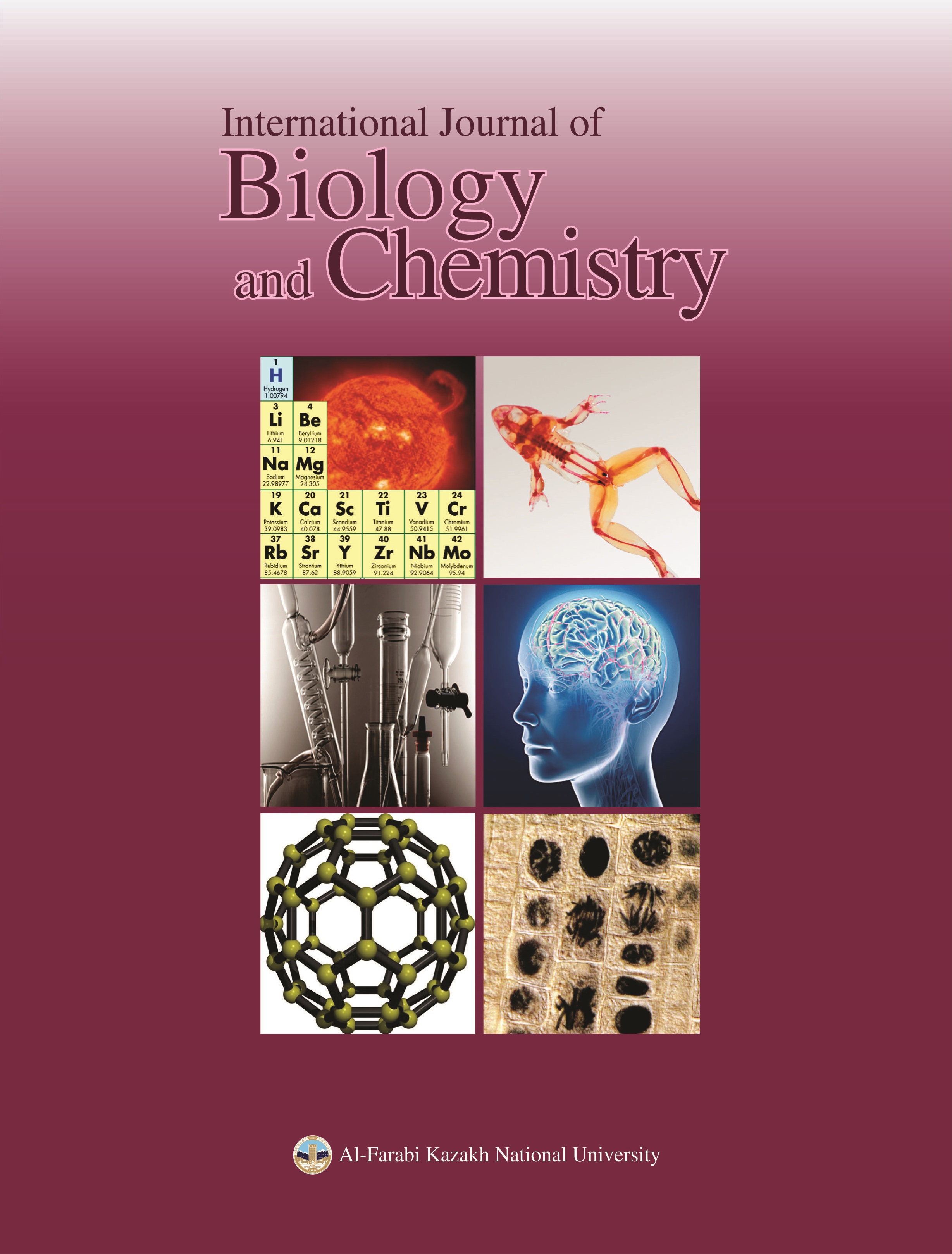 How to Cite
AYTASHEVA, Z. G. et al. Development of legumes collection and its investigation for morphogenetic properties.
International Journal of Biology and Chemistry
, [S.l.], v. 6, n. 2, p. 3-7, dec. 2013. ISSN 2409-370X. Available at: <
https://ijbch.kaznu.kz/index.php/kaznu/article/view/91
>. Date accessed: 19 sep. 2020.
Keywords
common bean; Phaseolus vulgaris L. technical maturity; germination